Club History
Below is the history of Woodland Hills Country Club
written by Judi Uthus and printed in a 2005 issue of
Calabasas-Life At Its Best Magazine.


The legendary Woodland Hills Country Club
celebrates 80 years of world-class golf.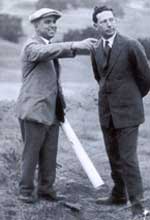 IN THE TREES ALONG THE FAIRWAYS AT WOODLAND HILLS COUNTRY CLUB there must live a golfer's phoenix. It has emerged from two fires, placing its immortal wing around the players who have discovered this gem of a course. Memberships in the equity-owned club tend to go back two and three generations. What is it about the Valley's second-oldest golf course hidden in the hills off Dumetz and Canoga avenues that golf aficionados can't seem to get enough of? "Its rich history, the challenging course, a magnificent view, five-star service" answers Betty Ann Bowler, the current club historian and a 40-year member, "and the people," she concludes. "It's the people who make this club." The one who actually did make it was the flamboyant Victor Girard. The son of Aleutian-Jewish immigrants and a noted Southern California land developer, Girard was an aggressive super-salesman admired for his confidence and sharp mind, yet is remembered most as "the devious genius" for his conniving ways.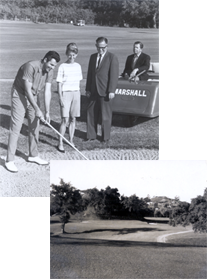 Although he became wealthy from developing Pacific Palisades, Victorville and Walnut Park, his lavish lifestyle drove him into bankruptcy more than once. When his empire first crumbled in 1920, the resilient Girard bounced back by creating a retreat from Los Angeles on 2,886 acres in the west end of the San Fernando Valley. By 1925 he had replaced cow pastures at the scenic gateway of Topanga Canyon with a public golf course, 700-square-foot cabins on small subdivided parcels (some cabins still exist around the course) and ornate Turkish buildings that he featured on his brochures. He shuttled people out from Los Angeles along the coast highway through Topanga Canyon for a round of golf followed by a barbeque in the new town of Girard. The Girard Golf & Country Club became the selling point for his retreat. Designed by popular course architect Billy Bell Sr., all 18 holes were laid out much as they are played today, but with some modifications. In the old days there were two blind holes, the fifth and seventh, requiring periscopes for observing players ahead before teeing off. As the course grew in popularity, Girard hired Guy Philbrook as his Golf Professional. His son, Bill Philbrook, who is an honorary club member, grew up in a Girard cabin and currently resides in a home overlooking the golf course.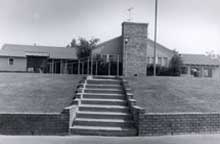 Despite Girard's reputation as a quick-buck charlatan, golfers can't seem to get enough of his challenging, tree-lined links. Whether on the green or in a building, Girard believed that nature should always be enjoyed. The tree hugging developer filled not only his course but his whole town with a total of 120,000 sycamores, eucalyptus, fir pine and pepper trees to complement the natural oaks. In 1927, the first brush fire occurred and burned down the clubhouse. Undaunted, Girard rebuilt it and enjoyed more successful years— until 1944, when another major fire swept through the area and engulfed the devious genius in bankruptcy once again.
Girard sold the club to his friends Jack Yates and Bob Findlay for $15,000 with the agreement they would pay off the six years of back taxes, which had accrued to nearly $50,000. The new owners rebuilt the clubhouse and hired Bill Cawelti as greenskeeper. His son Wally has been a club champion 15 times. As a child, Wally and his brother slept on the fairways in the summer so they could water in the cool of the early morning. They also tended the sheep that were brought in to graze in the barrancas too steep to mow.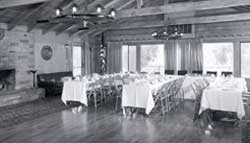 Yates and Findlay turned the golf course into a private membership club and renamed it the San Fernando Valley Country Club with a $100 sign-up fee and $14 monthly dues. (Today the fee is under $20,000 with $450 monthly dues, an incredible bargain for a private country club of its caliber.) By this time, the town of Girard's population had grown from 30 people to 4,500 but there were still only a few houses perched on the hills around the course. That began to change as golfers who liked the course took up residency. Among them was H.L. Sale, of Sale Avenue in Woodland Hills, who built one of the first primary residences overlooking the course. Another stately historic home above the first fairway is appropriately named the Fairway House.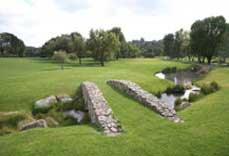 Over time, WHCC became fully member-owned, with a charter calling for 360 equity members as well as offering junior executive and social memberships. The club roster has always been filled with individuals from all walks of life, from local business owners to golf lovers from the entertainment industry.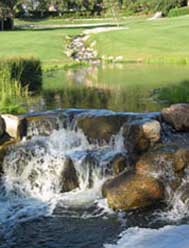 Longtime members recall when actor Patrick Knowles made appearances with a different glamour gal always by his side. In 1950, Broderick Crawford celebrated his Best Actor Oscar with a party at WHCC the night he won. During the 1960s, professional athletes Don Drysdale, Sandy Koufax, and Bob Waterfield often hit the links during off-season.

Equally impressive on the roster is the guest list of individuals who wanted to try out the par 70/72 course or visited the club. In the '30s, Tarzan star Johnny Weissmuller played a round with surfing legend Duke Kahanamoku. In 1966, Ronald Reagan unofficially announced his candidacy for governor at a special United Chamber of Commerce dinner held at the club. Former Los Angeles Mayor Sam Yorty often landed his helicopter on the 18th fairway to attend club functions.
Los Angeles City golf champions Tim Hoggarth, Craig Steinberg and Mike Turner became members as well as club champs of the demanding course. "The young amateurs say there isn't a shot on this golf course you don't learn to make," shared Bowler. "If you can play Woodland Hills Country Club, you can play anywhere."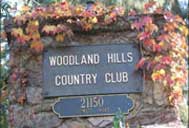 At one time the club had an Olympic-sized pool and tennis courts, but Bowler explains they were removed to concentrate on what golfers really want: "Golf and cold beer." WHCC now focuses on services that strictly cater to fine golf. Members never have to lift a bag, which are handled by staff—as are shoe and club cleaning. Caddies are available on the weekends. Computers are waiting to efficiently and accurately calculate handicaps. Locker room facilities for men and women are fresh and contemporary.
Before a round, coffee and tea are readily available, and afterward, hors d'oeuvres and cocktails await in the lounge. Gourmet, chef-prepared meals are taken advantage of by members whether they're playing that day or not. Relaxing or swapping golf stories before a sweeping view of Warner Center and the Santa Susana Mountains is another valued WHCC perk.
One would assume that only experienced golfers need apply, but neophytes are encouraged and sponsored at WHCC. Since 1939, the club has promoted golf to future generations, and six schools now use it for their home course. The club's current Golf Professional, Kerry Hopps, began working in the pro shop as a student at Cal State Northridge. Today, she is one of just 100 women out of 7,500 head golf professionals in the country.
WHCC has always encouraged the growth of women's interest in the sport. Team plaques line the walls of the ladies locker room. The club's first Women's Auxiliary formed in 1946, and has grown to become the WHCC Women's Golf Association, with a roster of 147 members, of which 126 have handicaps. With the support of WHCC funding in 1965, the women players established the Lady Girard, currently celebrating its 40th anniversary.
Although members can no longer picnic on the sixth tee as in bygone days, they can still walk right on to play, even on weekends. Keeping membership at an exclusive level ensures that the newest generation of low handicappers can personally hear how octogenarian Ed Rosa sunk his 16th hole-in-one.