Restaurant Supervisor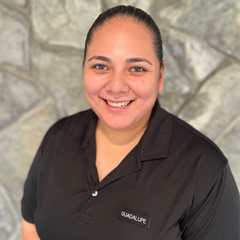 Phone: 818-347-1511 x203
Email: [email protected]
Restaurant Supervisor Lupe Becerra began working at Woodland Hills Country Club in January 2018 as a Banquet Server. Wasting no time showing her integrity and work ethic, she soon moved up the ranks as a highly valued Restaurant Server.
She has drawn on the organizational skills she gained from her experience as a restaurant server to coordinate the front of house wait staff and club beverage inventory, becoming a highly esteemed member of the WHCC family. While working here, Lupe has found time to earn her B.S. in Sociology from California State University, Northridge, where she graduated with honors. She loves working with people and hopes to use her degree to help others.
Lupe enjoys the employee golf privileges and lives with her parents and two sisters here in the San Fernando Valley.