Massage Therapist - NRG Health & Fitness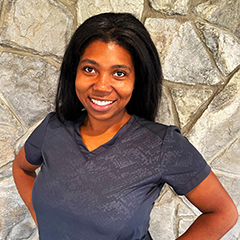 Phone: 818-633-1373
Email: [email protected]
With over 10 years of massage experience, Tiffany originally trained in medical massage at the Southern California Health Institute in Los Angeles. From there she spent two years as a massage therapist at the Integrated Wellness Group where she performed numerous procedures ranging from therapeutic massages to electrical stimulation and red light therapy for injuries and maintenance.
In 2017, Tiffany traveled the world with Hands Across Borders and taught massage therapy skills and procedures to women in Africa. She also worked in Madrid (Spain) as a master massage therapist in a physiotherapy clinic and spa.
In her return to the United States, Tiffany opened up her own practice in Woodland Hills while also working for Massage in L.A. in Beverly Hills. She then founded the non profit, A CLEAN WATER FOUNDATION that provides water to homeless communities in the United States and build wells in developing nations.
While still maintaining her therapy sessions with her loyal client base, Tiffany joins Woodland Hills Country Club to help rejuvenate the massage program.
Tiffany specializes in sports, deep tissue, Swedish and medical massages. She's also skilled in body scrubs, aroma therapy, and hot stone massage. Tiffany is available Monday-Saturday with flexible scheduling.