Chef Adrian Hoschet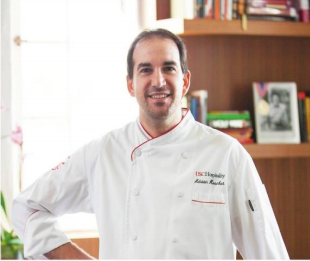 Dining at Woodland Hills is under the capable direction of our Executive Chef, Mr. Adrian Hoschet. Chef Adrian began his tenure at Woodland Hills Country Club in June 2021.
Executive Chef Adrian Hoschet joined Woodland Hills Country Club after a six-year stint at the University of Southern California while overseeing all of its culinary operations. As Executive Chef, he managed the day-to-day operations and ensuring that the best quality products are used throughout the properties.

Chef Adrian has an extensive culinary background and is a graduate of Le Cordon Bleu in Pasadena. He began his culinary career when he was just a teenager and started as an intern at Alain Ducasse, Paris, France.

His culinary path has included time at Chez Fonfon in Marseille, FR, where he worked as Chef de Cuisine, he then moved to California and went on to explore award winning kitchens in Los Angeles and Beverly Hills. Prior to joining USC, Chef Adrian served as a Sous Chef at Luxe Hotel Beverly Hills and held a position as a Sous Chef at Sofitel Luxury Hotels & Resorts in Beverly Hills. Over the past 15 years Chef Adrian held many other positions such as Executive Chef at Willow Creek Las Vegas, Sous Chef at Calabasas Country Club where he was recruited by the former Executive Chef to become the chef de cuisine of Capistrano's restaurant in Oxnard. He also served as Private Chef to Minister Theodore Nguema Obiang in Malibu, held lead positions at the Getty Center Restaurant in Los Angeles and Montage Resort & Spa in Laguna beach.