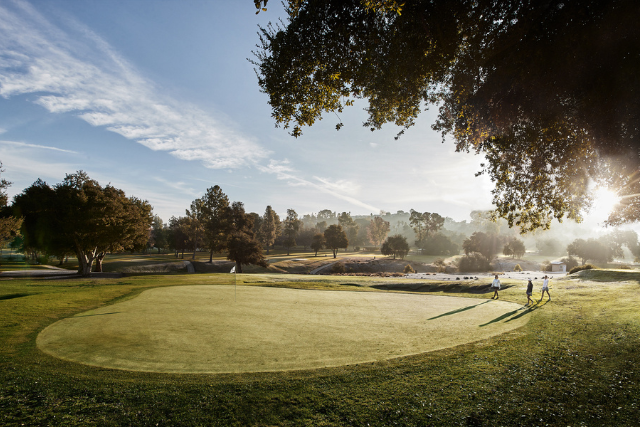 Membership Plans
Become a member at Woodland Hills Country Club. Our affordable plans and low initiation fees make Woodland Hills one of the top destinations in The Valley.
Welcome to Woodland Hills Country Club (WHCC), a celebrated historical club established in 1925 in the heart of Woodland Hills, California. We are the second oldest country club in the Valley, with our roots only surpassed in age by the Lakeside Golf Club in North Hollywood.

Through the years, we've undergone several name changes, ultimately adopting the title Woodland Hills Country Club in 1948 to reflect our close ties with the local community. Nestled in the foothills of the Santa Monica Mountains, our golf course offers unparalleled views of the West San Fernando Valley. This 6,400 yard, par 70 layout was skillfully designed by the renowned golf course architect, William P. Bell, Sr., credited with over fifty exceptional course designs in California.

From 1958 to 2020, WHCC was a member-owned equity club, fostering a diverse community that spanned ages, backgrounds, stages of family life, and careers. Today, we are proud to operate as a family-owned and managed club, boasting a robust membership of over 550 families. Our members continue to reflect a vibrant mixture of backgrounds, contributing to the dynamic and inclusive spirit that defines our club.

Under new ownership in 2020, we embraced a period of transformation, undertaking extensive renovations to enhance the comfort and enjoyment of our members. From a new outdoor patio with breath-taking golf course views, a refreshing member bar, modern dining spaces, to a luxurious massage suite equipped with state-of-the-art facilities. We've also introduced a fitness center with commercial-grade equipment, a fun-filled game room, and fully renovated private event spaces.

Our commitment to excellence isn't limited to our facilities. We regularly host various family and holiday events, live music evenings, and concerts, featuring artists who have performed with some of the industry's greats. Our historic championship golf course is the venue for numerous men's, women's, and couples' tournaments, and we also offer an annual junior camp, golf lessons, and junior team play.

At Woodland Hills Country Club, we believe in creating unforgettable experiences for our members. We welcome you to be part of our historic legacy and vibrant future.
Playability and Accessibility
We believe that a golf club should be easy to play at. Here, you don't even need to book a tee time. Just show up, get ready, and play. Our club is smaller, so the first tee is usually free, even on Saturdays. If you like to walk while you play, you're in luck. Our course is perfect for walkers, whether you're carrying your clubs or using a cart.

Membership and Social Opportunities
WHCC is a great place to play golf, meet new people, and relax. New members will feel welcomed and can quickly make new friends. We have a full schedule of social events, like Easter and Mother's Day brunches, Memorial Day BBQs, and Sunday "Brunch with Santa" in December.

Entertainment and Events
We're lucky to host unique musical events at WHCC. We've built relationships with world-class musicians and performers. From our "Jam Night at the Club" series to our concerts, there's always something entertaining happening here.

For a fantastic golf experience, great food and drink, unmatched entertainment, and an easily accessible course, come to WHCC. Explore our website to learn more about our golf course, history, facilities, and the fun we offer.
Learn more about Woodland Hills Country Club by downloading our brochure. If you have immediate questions, please contact Membership Director Gregg Matalas at 818-928-9984 or [email protected].
Join our community today!
18-hole, 6400-yard, par-70 scenic and challenging golf course
Course designed by renowned architect William "Billy" Bell, Sr.
Four-hour pace of play
No advanced tee times; arrive and start golfing after check-in
Calendar of family events ranging from music concerts to holiday dinners
Full series of tournaments and member-guest events
Short game practice range with bunker; full-size putting green
Two (2) advanced TrackMan simulator bays for warm-up and extended practice
PGA and golf professionals on site for lessons and questions
Top-shelf dining, including renovated dining spaces along with outdoor patio seating
Live music and concert series, including annual Memorial Day BBQ and Concert
Brand new massage suite with discounted massages available to members
Multiple exercise classes for members and their families
Diverse community with average age of 54 years old
Temperature-controlled wine storage unit for small monthly fee
Vibrant junior golf program with complimentary practices, clinics, lessons, and tournaments
Welcoming staff eager to fulfill the needs of our members
Brand new fitness center that includes brand-new, commercial-grade Precor equipment
Banquet, wedding, and event facilities for 30-300+ guests available
Filming location venue for multiple commercials, tv shows, and films
Gopher animatronic scenes from Caddyshack filmed at Woodland Hills Country Club
Complimentary shoe cleaning service for all members
And more!