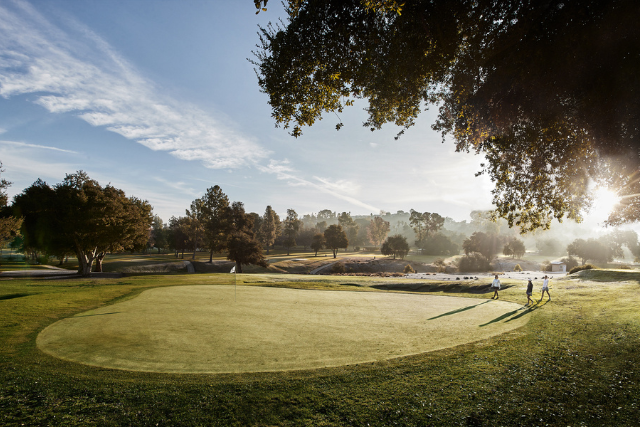 Membership Plans
Become a member at Woodland Hills Country Club. Our affordable plans and low initiation fees make Woodland Hills one of the top destinations in The Valley.
Woodland Hills Country Club is an award-winning, private golf club in the San Fernando Valley nestled in the rolling, oak-covered foothills of the Santa Monica Mountains.
WHCC opened at the height of the "golden age" of golf course architecture in 1925 and was designed by renowned architect William "Billy" Bell, Sr. In early 2012, the club undertook a renovation project to restore its bunkers to their 1925 character, consistent with the Billy Bell, Sr., design. Overseen by well-known architect Geoff Shackelford, design partner with Hanse Golf Design, the aesthetics and playability of WHCC's new bunkering is a tremendous enhancement for this historic golf course.
In 2020, the clubhouse upgraded the Heights Lounge and added a newly expanded outdoor patio where members may dine while enjoying the beautiful sweeping valley views. Recently completed amenities include a Fitness Center equipped with new Precor and TRX equipment, two (2) state-of-the-art TrackMan Golf Simulators, a relaxing spa-like Massage Room, and access to a group exercise studio with weekly classes.
The club also saw the installation of two golf course comfort stations which provides complimentary soft-drinks and snacks for our members and guests. Woodland Hills also renovated its Member Bar while purchasing new furniture for the Heights Lounge and outdoor patio.
It is our firm belief that a country club should offer easy access to play. Tee times are not even a necessity here...just walk up, warm up, and play! As WHCC has a smaller membership than surrounding clubs, the first tee is almost always accessible, even on Saturday mornings.
If walking the golf course is important to you then you are really in luck, as this 1925 classic course is considered a walker's paradise, whether you're carrying your clubs or using a pull cart.
WHCC offers an exceptional opportunity for individuals and families seeking an inviting place to play golf, to meet new people, and to relax and enjoy life. New members will find themselves warmly welcomed by our existing membership, presenting the opportunity to cultivate many immediate and long-lasting friendships.
We offer a lively social calendar comprised of traditional country club favorites, including elaborate Easter and Mother's Day brunches, long-standing summertime favorites which include our Memorial Day BBQ and Concert, each year highlighted by amazing musical performances, family oriented summer Sunday barbecues featuring everything from hot dogs and potato chips to sizzling steaks and apple pie, along with a Sunday "Brunch with Santa" during the December holidays, appealing to every "believer," from the youngest to the oldest.
We are privileged to be able to provide some very unique musical events at WHCC. We have developed relationships over the years with some of the world's finest recording artists and studio musicians. From our "Jam Night at the Club" series to our concert events, including our annual Memorial Day Concert, you will be amazed at the entertainment opportunities offered at WHCC.
For incredible golf, the finest food and drink, unequaled entertainment and the most accessible course anywhere, visit the "hidden jewel of the San Fernando Valley," and make Woodland Hills Country Club your home!
Enjoy this website and the opportunity to learn about our golf course, our history, our facility and the kind of fun we have.
Learn more about Woodland Hills Country Club by downloading our brochure. If you have immediate questions, please contact Membership Director Gregg Matalas at 818-928-9984 or [email protected].
Join our community today!
18-hole, 6400-yard, par-70 scenic and challenging golf course
Course designed by renowned architect William "Billy" Bell, Sr.
Four-hour pace of play
No advanced tee times; arrive and start golfing after check-in
Calendar of family events ranging from music concerts to holiday dinners
Full series of tournaments and member-guest events
Short game practice range with bunker; full-size putting green
Two (2) advanced TrackMan simulator bays for warm-up and extended practice
PGA and golf professionals on site for lessons and questions
Top-shelf dining, including renovated dining spaces along with outdoor patio seating
Live music and concert series, including annual Memorial Day BBQ and Concert
Brand new massage suite with discounted massages available to members
Multiple exercise classes for members and their families
Diverse community with average age of 54 years old
Temperature-controlled wine storage unit for small monthly fee
Vibrant junior golf program with complimentary practices, clinics, lessons, and tournaments
Welcoming staff eager to fulfill the needs of our members
Brand new fitness center that includes brand-new, commercial-grade Precor equipment
Banquet, wedding, and event facilities for 30-300+ guests available
Filming location venue for multiple commercials, tv shows, and films
Gopher animatronic scenes from Caddyshack filmed at Woodland Hills Country Club
Complimentary shoe cleaning service for all members
And more!