Executive Chef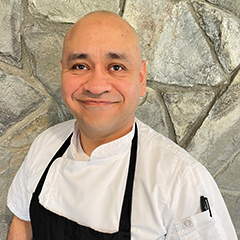 Phone: 818-347-1511 x221
Email: [email protected]
Executive Chef Alfie Salvatierra comes to Woodland Hills Country Club with a wide variety of culinary skills from all over the Los Angeles area. Raised here as the youngest sibling in a single-parent household, Alfie was taught to cook, clean, sew and generally take care of himself at an early age. He cooked for his family growing up until graduating from the California School of Culinary Arts in Pasadena in 1999 (now Le Cordon Bleu).
Alfie has had the good fortune of working with great food mentors beginning in the late '90's with Wolfgang Puck at Spago and including Mike Ruiz at Chez Panisse. More recently, Alfie spent five years working at J Nichols Kitchen in Marina Del Rey and was the opening chef at Cloverfield in Santa Monica, where he continued to focus on fresh, quality ingredients. He is excited to bring his expertise and love for Spanish flavor to our kitchen and provide singular, Westside-style dining experiences for our members in their home-away-from-home.
Alfie lives in Granada Hills, California with his wife, who he has been with since 2002, their son, and his new granddaughter.