Director of Events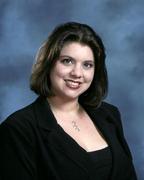 Phone: 818-347-1511 x226
Email: [email protected]
Director of Events Rebecca Bauman was born in Santa Cruz, California and raised in Encino. She lived there until graduating Birmingham High School with the intent of pursuing preschool education. Her path quickly moved to the restaurant industry after getting her start as a hostess at the iconic Valley Ranch Barbecue. Learning the business and how restaurants operate, Rebecca was referred to Woodland Hills Country Club in 2004 where she served as a server and bartender until 2007. She was then promoted to Director of Events as her popularity and job performance continued to grow.
Her love for Woodland Hills and its unique membership is what sets her apart from others. In her time as Director of Events, Rebecca has perfected the art of creating lasting events, large and small. Having been raised in a family that embraced the importance of commemorating life's special occasions, Rebecca's natural talents, skills, and attention to detail has made her one of the top event coordinators in the Valley. Aside from the multifarious duties she handles daily, her passion for her work comes from the satisfaction of making life's memorable moments less stressful for others. Making once-in-a-lifetime occasions special is what makes her events so unique and special.
Rebecca lives in Granada Hills, California with her husband, who she has been with since 2002, her son, and her new granddaughter.