Facial Treatments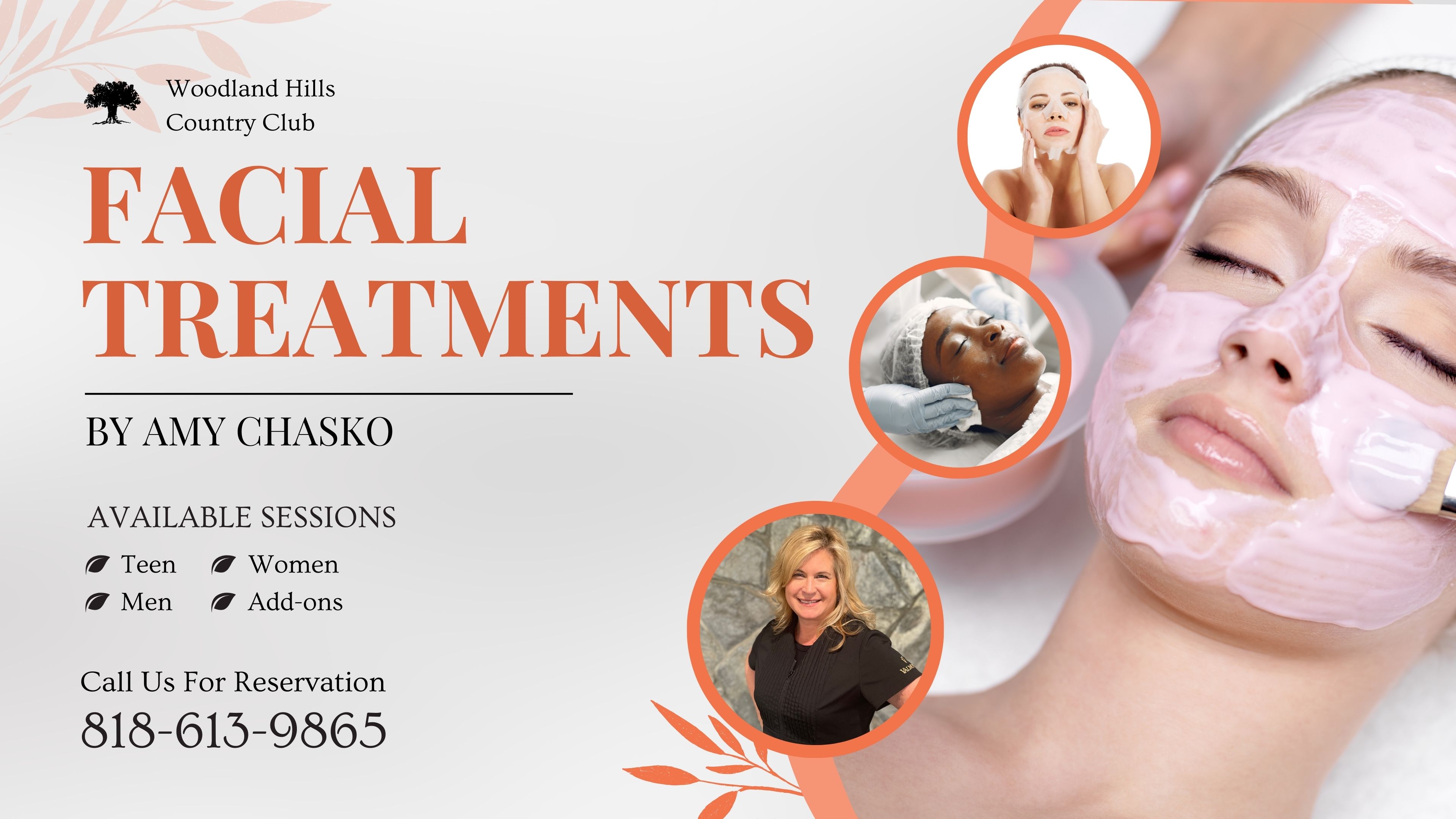 Woodland Hills Country Club is excited to offer its members discount facial treatments beginning March 2023. Sessions take place in our brand new spa suite at the club.
Woodland Hills Country Club offers facials by Amy Chasko. Amy offers her clients a highly personalized service that incorporates clinical expertise and product education. She uses the latest in skin technology by customizing anti-aging treatments that transform your skin, peels that are safe and effective and leave you looking radiant.
To book a session, contact Amy Chasko:
Availability:
Tuesday and Thursday: 10:00am to 5:00pm
Wednesday: 2:00pm to 6:00pm
Session Packages:
Teen - 45 minutes - $95 - Deep cleanse, exfoliate with enzyme, extractions, custom mask and high frequency to address inflammation. A thorough skincare analysis, address a plan of action and, home care recommendations. (Note first time clients appointment will be 1 hour)
Men - 60 minutes - $110 - Designed just for men, this treatment eases razor irritation, provides deep pore cleansing, and toning to restore vitality and hydration.
Classic - 60 minutes - $125 - Tailored to treat skin concerns such as skin congestion, lack of radiance, skin sensitivity, fine lines, and loss of firmness. Enjoy a deep double cleanse, steam, exfoliation with fruit enzymes, extractions if needed, facial massage, and customized mask.
Deluxe - 75 minutes - $150 - In addition to the Classic Facial, this will include a light peel and Dermaplaning. This treatment will physically remove the top layer of dead skin and vellus hair, leaving skin smooth and exfoliated. This service assists in a deeper penetration for products and a smooth base for makeup.
Add-Ons:
Dermaplaning - $40
Collagen Mask - $50
Infusion Pen - $50
Instructions:
Facial treatment clients are asked to please arrive five minutes early for their sessions to prep for treatment and discuss any specific needs with Amy. Amy will allow a 10-minute grace period for late members. After 10-minutes, if the member does not show, the session will count as a completed session. If the client arrives before 10-minute grace period is up, the session can continue for the full amount of time.